My Top Ten Podcasts for 2021 #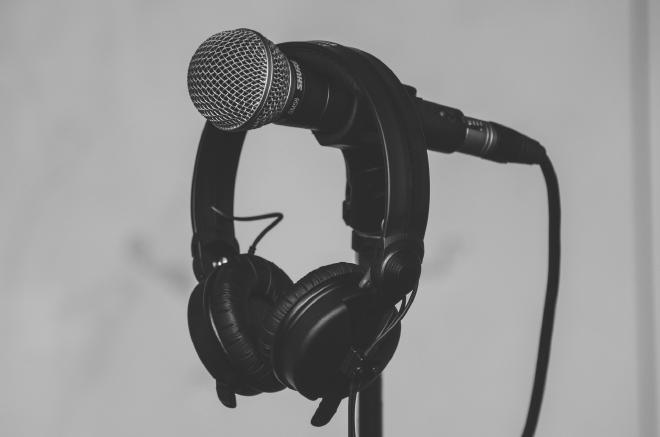 Podcasts have exploded in the last few years, and I have no doubt that 2021 will see that trend continue. Spend a few hours listening to a few great podcasts and the reason for this becomes quite clear: podcasts are an amazing and simple way of hearing awesome stories, catching up on industry news, or exploring a new hobby. The amount of entertainment and information within the podcastsphere is seemingly endless… And that can be a bit intimidating.
With thousands of fantastic podcasts to choose from made by a huge variety of talented people with something to share, it can be difficult to know where to begin. My advice is always to first consider what you might want in a podcast and then search around for what people are recommending in that category. Looking for top notch storytelling with a spooky twist? Search for horror podcasts. Looking for deep dives into current events? There are plenty of podcasts that cover the news from a variety of perspectives. Want to learn more about gardening? A quick search in Overcast comes up with dozens. The important idea here is that with so many out there, part of the fun is exploring the different ideas and genres out there and finding the podcasts you really enjoy.
With that, I wanted to share the ten podcasts I am most looking forward to listening to more of in 2021. Podcasts I listen to fall into a range of topics and categories, and my top ten are no different. Note that these are my top ten podcasts, and my interests may not align with yours, but I hope you find something here that piques your interest.
Along with a short bit about each podcast and why I like them, I've also included whether or not I think they require listening from the first episode. I have put each pick into one of the following categories:
No: Jump right in! No episodes really require hearing another to start enjoying the podcast. Of course, feel free to scroll through the backlogs and listen to episodes that look interesting.
Maybe: It depends. These podcasts might have several episodes that build off of each other, or include many different multi-episode stories. You'll want to at least glance at the backlog to make sure you're not missing out on anything interesting or important, and if the most recent episode is part of a series, go back and start from the beginning of that series. But, if you don't care or don't have the patience, you can also just listen to the latest episode and not feel too lost.
Yes: You will definitely want to start from episode one with these. What happens in episode 23 will likely be confusing or uninteresting without everything that came before it. These are likely story-driven podcasts more akin to listening to an audio book than reading an article in a magazine.
---
10. Bananas #
Listen from episode one? No.
Find it here.
Kurt Braunohler and Scotty Landes discuss the strange, fascinating, and just plain bananas news from around the world.
This is a podcast in which you truly never know what you are going to hear. Kurt and Scotty pull unexpected news from any and all sources ranging from the time a criminal tried to escape being caught using an underwater sea scooter to a man dressed as a cow stealing milk from Walmart. It can be a wild ride that may simultaneously be fascinating, hilarious, and horrifying. This podcast often features guests who are invited to come along for the ride.
If you think you'd enjoy a podcast that pokes fun at the extraordinary, but lesser-known, events happening every day, then this is a great place to start.
9. The Candid Frame #
Listen from episode one? No.
Find it here.
Each week host Ibarionex Parello brings in-depth, intimate and thoughtful conversations with photographers on living a photographic life.
If you are at all interested in photography, let the deep, soothing voice of Ibarionex guide you through conversations with some of the worlds best photographers. Starring amazing guests from portrait photographers that shoot the worlds biggest celebrities to world-renowned fine art and landscape photographers, there is no shortage of amazing conversation and story in this podcast.
In The Candid Frame, Ibarionex gets personal with his guests, delving into their stories, backgrounds, and philosophies. While respectful, he challenges them to discuss the tougher aspects of their lives, art, or careers, often revealing the more human aspects of these fantastic artists you don't see or hear day-to-day.
If you've ever wondered what some of the best photographers of today are really like or how they got to where they are, this is the podcast for you.
Oh yeah, and did I mention his voice?
8. Supernatural With Ashley Flowers #
Listen from episode one? No.
Find it here.
Most mysteries can be solved by looking at the facts. But sometimes, the facts don't lead to a logical explanation, and the truth lies somewhere in the unknown…
If you already have some experience with podcasts you may know about a podcast called Criminal. If not, Criminal, hosted by Phoebe Judge, is a true crime podcast in which Phoebe explores real crimes and often interviews those involved with the crime or with the criminals. It's a fascinating look into real-world events which often seem more likely to have occurred in a TV show or fiction. It was also very close to making this list and is well-worth a listen.
Supernatural is to unexplained events as Criminal is to true crime.
In each episode, Ashley Flowers explores an unexplained mystery you may, or may not, have heard of. Taking a deep-dive into the people and events surrounding these mysteries, Ashley unravels the stories and theories, attempting to reveal what really happened. Often, this only leads to more questions. The result is a podcast that is simultaneously exciting and unsettling.
This podcast offers a great introduction to the supernatural and/or true crime genres, and is a good place to start if you're not sure whether or not you'll like them.
7. Sawbones: A Marital Tour of Misguided Medicine #
Listen from episode one? No.
Find it here.
Join Dr. Sydnee McElroy and her husband Justin McElroy for a tour of all the dumb, bad, gross, weird, and wrong ways we've tried to fix people.
Ever wonder what the miracle elixirs of yesteryear really were and how they came to be, or about the medical virtues of coffee, or maybe the how fluoride became both savior and villain at the same time? Dr. Sydnee and Justin explore topics like these and so much more in Sawbones. This is a podcast that I truly always look forward to, as the conversation is always either relevant to current events or just very interesting.
Dr. Sydnee brings the expertise while Justin brings the humor (anyone who has listened to the ever-popular My Brother My Brother and Me will know the name). The couple brings a fantastic, and often hilarious, dynamic to all sorts of medical-related topics. Surely this must be one of the only podcasts to combine this level of historical medical research with this kind of humor. If you know of another please let me know!
6. Lore #
Listen from episode one? Maybe.
Find it here.
Lore is a bi-weekly podcast about dark historical tales.
This is one of those podcasts I have been listening to since I started listening to podcasts years ago. Note that while this could be labeled No for listening from episode one, there are so many exceptional episodes in the backlog that I labeled it Maybe instead. Just know that if you don't listen to past episodes, you'll do just fine.
If you like stories about the supernatural and disconcerting experiences of real-life people throughout history, look no further than Lore. Host Aaron Mahnke has the unique ability to instill within the listener an uneasy doubt about their own realities. He doesn't attempt to explain away the experiences of the characters in the stories he shares, but rather uses them as a platform to explore the human psyche and the often devastating effects it can have on our realities. If you only have one slot for a podcast in this genre, this could be the one to fill it.
Before jumping into his latest episodes, I highly recommend listening to episode 23: Rope and Railing. While the production was a bit dry back then, this episode has some fascinating exploration around lighthouses and the symbolism and mystery they can hold in our lives. It also serves as a great introduction to the type of content you can expect from Aaron.
5. The Wild with Chris Morgan #
Listen from episode one? No.
Find it here.
THE WILD with Chris Morgan explores how nature survives and thrives alongside (and often despite) humans.
From bears to birds to serene soundscapes, this podcast encourages the listener to slip away into the great outdoors through audio. In it, Chris tells amazing stories from the wilder parts of the Pacific Northwest. Though the episodes are rarely very long, they always provide a nice break from the realities of day-to-day life.
Not all episodes are strictly about wildlife… Or rather, some do involve humans. Chris will frequently bring the listener along on his travels to meet men and women who, like himself, have been drawn to the outdoors. Whether that be to see a rare bird or track endangered species, these are people that love the wild.
If you are a lover of the outdoors, or are just looking for a mental break from the busyness of life, this is a fantastic listen.
4. My Brother My Brother and Me #
Listen from episode one? No.
Find it here.
An advice podcast for the modren era. The McElroy brothers are here to take your questions and turn them, alchemy-like, into wisdom.
If that description sounds a little goofy to you, that's because it is.
Real-life brothers: Justin, Travis, and Griffin McElroy are a truly dynamic trio that can't really seem to take anything seriously… And that's a great thing, 'cus it's a comedy podcast!
The premise of this show is pretty simple: three brothers read questions found on Yahoo Answers and try to answer them. They do not, however, try to answer them in any sort of helpful manner, often giving advice that could be described as the opposite of helpful.The result is usually hilarious. I have, on more than one occasion, accidentally laughed out loud in the office listening to this podcast.
Now, there are many many comedy podcasts, so you would be forgiven for wondering why this podcast from three random brothers might have a place this high on my list when several better-known comedians have their own. That is because they have built a platform that relates so well with us internet folk. More than just telling some good jokes, their whit and character has helped these three boys become some of the most beloved characters in the medium and even the internet, largely because of their ability to just think outside the box.
Seriously, give them a shot. Though, note that the humor can be pretty crude, so sorry if that's not your thing.
3. Dungeons & Daddies #
Listen from episode one? Yes.
Find it here.
Dungeons and Daddies is an award-winning Dungeons & Dragons podcast that started in January, 2019.
Do you like Dungeons & Dragons, or like the idea of Dungeons & Dragons? Do you have the sense of humor of a child? Do you love creative and unexpected storytelling? Dungeons & Daddies fits all of these characteristics and more.
Without giving too much away, Dungeons & Daddies takes the idea of a traditional Dungeons & Dragons podcast and adds an odd twist: the main characters are all dads from the modern world. I know, not the most riveting premise, and I'll admit I was hesitant. But, this has quickly become one of my favorites of the D&D podcasts I have tried, and it's one of the few I'm sticking with for 2021/. The characters are unique and quirky, the story is compelling, and the whole show is extremely entertaining.
If you find that you like this genre, other D&D podcasts worth listening to:
Adventure Zone
Sneak Attack
Critical Role
Total Party Kill

2. Fruitloops: Serial Killers of Color #
Listen from episode one? No.
Find it here.
Fruitloops is a weekly podcast hosted by Wendy and Beth. We are two female true crime enthusiasts who aim to bring you the often-untold stories of crimes committed by serial killers of color.
True crime podcasts really took off over the last couple of years, and while some of the classics are still around, like Criminal or My Favorite Murder, there are new up-and-comers all the time. Fruitloops is a new(ish) podcast all about serial killers of color.
Wendy and Beth were fans of true crime, but they noticed that mainstream media has largely historically ignored serial killers that weren't white. In response to this, they started a podcast where they focus on diverse crime stories you probably haven't heard before.
Alongside these stories, Wendy and Beth frequently have conversations around race, personal safety, and current events. The two have a great dynamic that keeps the podcast both entertaining and informative.
Fair warning: true crime podcasts can get morbid.
1. Dan Carlin's Hardcore History #
Listen from episode one? Maybe.
Find it here.
How did a multi-hour long show that consists of nothing more than a host talking about history ever become wildly popular? It's got something to do with Dan Carlin.
The title really (almost) says it all. Dan Carlin talks about historical events in great detail.
But that really doesn't do it justice.
Topics tend to center in on a specific scope of history. For example: in the first episode of his series Blueprint for Armageddon, Dan focuses in on the largely unknown literal and figurative trigger that led to World War I. He then, over the course of several multi-hour (often three or four hour) long episodes, explores the entire chain of events that follow. From the difficult political games world leaders are forced into, to journal entries from those in the field of history's most horrific battlefields, Carlin focuses on the extremes of the human experience, and the wonder of how tiny decisions in the grand scheme of time can have long, widespread, and often devastating consequences.
There is a weight to the stories, when Dan tells them, that you don't get in history textbooks.
If you are at all interested in history, the intricate balancing act of politics, or the amazing impact single individuals can have on the world, then Dan Carlin's Hardcore History is one of the most rewarding podcasts you can listen to.
Quick note: only some of the most recent series are available for free in regular podcast players, but if you find that you enjoy his content the archived series are well worth the cost. In fact, I have paid for some to listen again.
---
I hope you explore some of these and find some joy in them.
Do you have a top ten or fifteen or twenty podcasts you are looking forward to most in 2021? Let me know! I'm always looking for more.